The Dissolved Air Flotation (DAF) process utilises microscopic air bubbles for the removal of colloidal and suspended solids in water and wastewater treatment. It is the best available technology (BAT) for separating lightweight substances such as:
Fats, Oils and Greases (FOGs)
Total Suspended Solids (TSS)
Algae
Hydrocarbons
DAF technology is a cost effective solution for removing suspended solids and reduce COD & BOD. It can help companies to minimize their trade effluent costs whilst keeping them within thier discharge consent.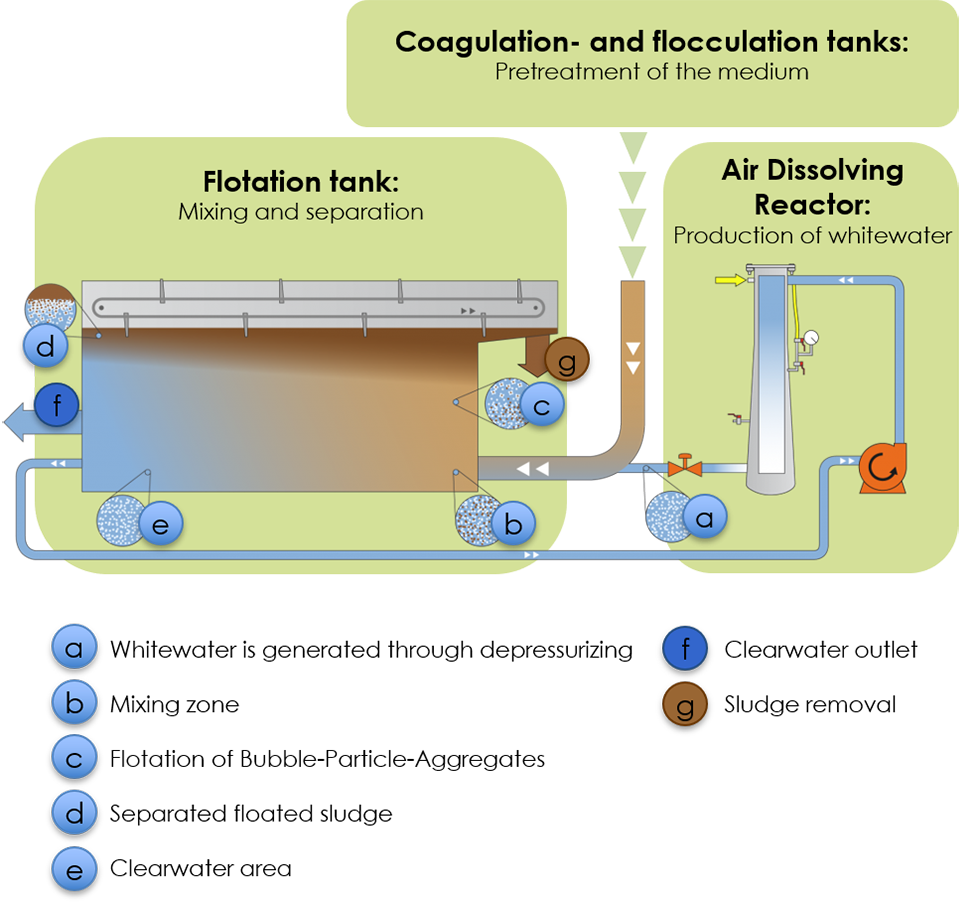 Pre-treatment - In some applications, the wastewater stream is pre-treated with chemicals such as coagulants and flocculants. This helps to form "pin flocs" which aid the flotation process. The selection and dosage of these chemicals will depend on the applications. The dosage is optimized by jar testing, and directly affects the removal efficiency of the dissolved air flotation (DAF) unit.
Dissolving Air - In recycle flow pressurization, a portion of the clarified water outlet is

thoroughly

mixed with air under pressure in a specially designed vessel. After 70 years of research, KWI have refined the patented Air Dissolving Reactor (ADR) to achieve the highest dissolving efficiencies using a unique internal baffle design.
Making Whitewater - As the air is depressurized and enters the flotation tank, it leaves the solution by forming microscopic bubbles with

a diameter of 30 to 50 micrometres

. This smoothie-like mixture is called "whitewater".
Flotation - The bubbles from the whitewater rise to the surface of the flotation tank, carrying suspended material and pin flocs with them to form a blanket of sludge. If coagulants are used, the bubbles will also

electrostatically

attract the pin flocs.
Sludge Removal - Floated sludge is skimmed off the surface using either a scoop or scraper mechanism.
Clarified Water - This leaves the flotation tank either for direct discharge, further treatment or re-use.